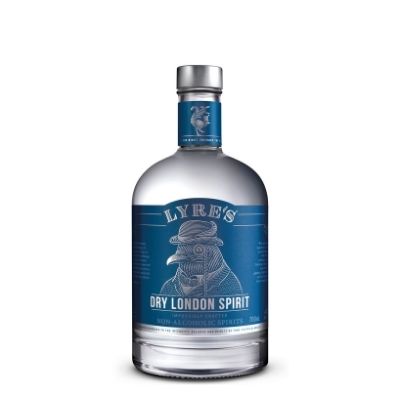 You can fight it, but the alcohol-free revolution has begun. People are wanting to drink better, drink less, stop drinking altogether. The no and low alcohol trend has started to pick up real momentum in Ireland, particularly throughout 2020, and consumer demand for a quality no alcohol cocktail experience is rapidly growing. Now, a key player has entered the Irish market to meet the demand.
Introducing: Lyre's Non-Alcoholic Spirits, the world's most comprehensive range of alcohol-free spirits and liqueurs. Lyre's has arrived to truly ramp up and enhance the category, distributed in Ireland by Richmond Marketing. There are no convoluted new creations here; instead, a focus on the established. While enjoying a libation at home has become the norm for those across Ireland in recent months, Lyre's offers an alternative to alcohol with no compromise on the taste, quality, or experience.
"Lyre's ambition is not to create original, new flavours, but to get as close as possible to those time tested and universally loved flavours of original spirits and pay them homage", says Mark Livings, CEO of Lyre's Spirits. "As the mindful drinking trend grows around the globe, more and more people are looking for sophisticated alternatives to alcohol. Lyre's was created so social people looking for more mindful options can still enjoy a sophisticated drink. Only Lyre's gives you the freedom to have your drink, your way."
The outstandingly diverse portfolio already boasts 13 different spirits and liqueurs, including Gin, Whiskey, Rum, Campari, Dry and Sweet Vermouth, Absinthe, Triple Sec, Amaretto and Coffee Liqueur. There are more in the pipeline, too, expected to be introduced in 2021.
Most awarded non-alcoholic brand
Lyre's has been impossibly crafted using all-natural essences, extracts and distillates so as to match the aroma, taste, and appearance of the traditional spirit, without using alcohol as a base. The quality of Lyre's spirits is recognised in several blind tests by distinguished sommeliers. The brand always comes out on top and has won many international awards, including at the London International Spirits Competition and the 2020 San Francisco World Spirits Competition. In fact, Lyre's often leaves even the alcoholic originals far behind. Most recently, it was announced that the brand was honoured to be recognised as the creators of the best and highest-scoring non-alcoholic spirit in the world at the International Wine & Spirits Competition.
The Lyre's bottles have a beautiful design and would certainly look good behind the bar or in
one's own drink collection. The animal on each label refers to the country of origin of that drink. Lyre's name and logo are inspired by the Australian 'Lyrebird', a bird known as the world's greatest mimic. And that is exactly how Lyre's works. Because the spirits have been developed to mimic the aroma, taste and appearance of the traditional spirit, drinking, for example, a Lyre's G&T or Lyre's Espresso Martini still gives you that feeling of a cocktail evening, even if you don't drink alcohol.
On the launch, Mary-Anne Byrne, Head of Alcohol Brands in Richmond Marketing, said:
"Lyre's is an extremely exciting new range and we're thrilled to have the brand on board. When we first tried the cocktails, we couldn't believe the similarity to their alcoholic counterparts. It's a complete revelation, and we can't wait to bring Lyre's to everyone in the Irish market."