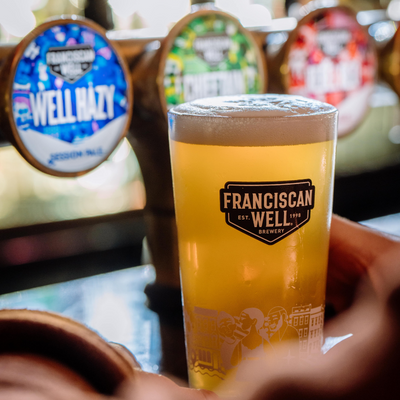 Franciscan Well has launched a new visual identity and refreshed brand positioning as it celebrates 25 years of the Cork based craft brewery in 2023.
Franciscan Well will invest significantly in the brand across 2022 and 2023, helping to refresh and renew its offering as it marks a quarter of a century of brewing. A launch campaign, which embraces and celebrates the craft brewer's Cork heritage, will run for the remainder of 2022 and continue into 2023.
The rollout of the campaign will include an above-the-line media campaign that will run across trade media, social media and a national billboard campaign highlighting the new look. Customers will also begin to see Franciscan Well's new visual identity and refreshed brand positioning on its newly designed cans, packaging and in-store branding in the off trade, and on pint glasses and beer taps in the on trade over the coming weeks and months.
The new visual identity for Franciscan Well is inspired by Modern Ireland and the brewery's Cork home, with the new designs capturing Modern Irish life and community through the inclusion of people, buildings and culture with references to Cork and the brand's heritage.
Well Hazy Pale Ale
As part of the brand refresh, Franciscan Well is also launching Well Hazy Pale Ale, a brand new hazy beer to complement the brewery's existing range of ales and beers available across the on and off trade.
The sessionable 4% ABV hazy beer offers customers low bitterness with a fresh tropical taste. Hazy Pale Ale will offer even more choice from the Franciscan Well range and also appeals to the rapidly growing hazy beer market, which has seen sales grow by over 110% since 2019.[1]
The new beer is available now in the Irish on-trade with an off-trade launch planned for March 2023.
Speaking on the launch of the new brand look, Franciscan Well Founder, Shane Long said: "Franciscan Well has come a long way since we founded the brewery back in 1998 and I am delighted to support Molson Coors as they introduce our new visual identity and refreshed brand positioning, which is going to lay the foundations for the next quarter century. Established on the site of the old Franciscan Monastery in Cork, which dates back to 1219, we are proud of our Cork roots and have worked hard to reflect that heritage in our rebrand, while also embracing Modern Ireland."
"While we are proud to brew our beers in Cork, Franciscan Well's range of delicious, balanced beers are enjoyed all over. We are delighted to be introducing Well Hazy Pale Ale to our range as we celebrate our 25th year. The hazy beer market has seen strong growth in recent years and Well Hazy Pale Ale will offer our customers even greater choice across the on and off trade."
Also commenting on the new brand look, Shane O'Sullivan, Sales Director, ROI On & Off Trade, Molson Coors Beverage Company said: "We are delighted to share our new look for Franciscan Well with our customers. We have invested significantly in this rebrand to celebrate Franciscan Well's first quarter century, with the new look and feel helping to refresh the brand and bring new meaning and relevance for consumers, as we head into our second quarter century."
---
[1] NielsenIQ Off-Trade Total Market Craft Ale Value vs 2YA 12 w/e 14/08/2022