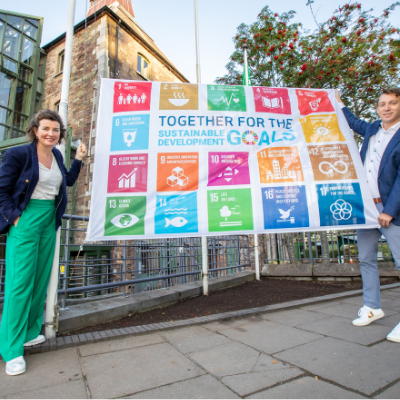 Six years ago, the world embraced the UN's Sustainable Development Goals (SDGs) which are 17 goals that guide us to a more inclusive, just and sustainable world by 2030.
Heineken Ireland, as part of their Brew a Better World sustainability programme, proudly support these goals with actions aimed at clean water, renewable energy, responsible consumption and production. To mark this commitment, Heineken raises the SDG Flag outside the Heineken Ireland Brewery to launch their Heineken Cares community funding programme.
This initiative gives colleagues the opportunity to provide financial support and volunteer time to charities of their choice. Over the past four years the communities programme has given almost €1.9m to 168 charities throughout Ireland.
Pictured raising the flag at Heineken's iconic Lady's Well brewery in the heart of Cork are Thijs Derksen, Supply Chain Director and Barbara Anne Richardson, Sustainability Manager at Heineken Ireland.
Enjoyed this story? Subscribe to our newsletter and receive stories of interest straight to your inbox. Just click on the Sign Up button at the top your screen to stay in the loop.