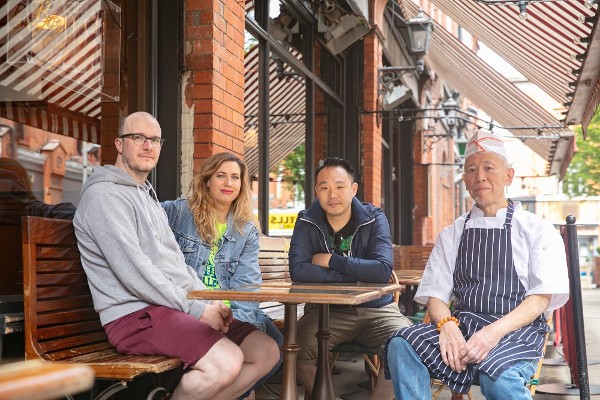 Fade Street creative communities come together to host a series of curated events.
Hop House 13 announced it will celebrate the communities that make our cities tick. Hop House 13, in collaboration with the creative thinkers and doers of Dublin's Fade Street, will host Neighbourhoods, a day long celebration of the street on Sunday, 11th August.
Hop House 13 was created by one unique brewer, Peter Simpson, in the historic James' Gate brewery. Peter's persistence and creativity in brewing Hop House 13 is a trait that is seen in Irish craft and creative neighbourhoods countrywide.
To celebrate these special communities, the day on Fade Street will be curated by local artists, musicians, chefs, business owners and publicans who will deliver unique and individual events free to attend and enjoy.
In the lead up, collaborators will create bespoke experiences designed to showcase their individual talents. The street will be closed to traffic for the day, allowing music, food and celebration to take place across the whole of Fade Street.
Experiences on Fade Street will include music from Sim Simma, Telephones and Tiny Choons DJs and live on-street murals. A bike exhibition from Rothar in collaboration with Epoch design will run throughout the day. Also featuring on the day is an exhibition by the Art of Ping Pong at Hen's Teeth and an on-street record fair from The R.A.G.E record and game store. A delicious menu of food and Chinese cooking demo by leading chef Kwangi Chan will be served by Chinese barbecue specialists DUCK.
The local pubs and restaurants Hogan's, L'Gueuleton, No Name Bar, Fade Street Social, Idle Wild and the Market Bar will host special music and food events throughout the day. The food events will feature bespoke menus that compliment the Hop House 13 distinctive hoppy flavour.
Speaking about the upcoming celebration, Peter Simpson, creator and brewer of Hop House 13 said; 'Hop House 13 was born from experimentation and creativity. At James' Gate, we are given the freedom to try new things. From experimenting with a multitude of different flavours, we finally landed on the distinctive Hop House 13 lager.
He continued; 'Creativity is key in brewing so supporting similar communities who strive to make great things makes sense. We're looking forward to celebrating with the Fade Street community in August.'
On 11th August on Fade Street, Dublin, Hop House 13 will celebrate creative communities that strive to make great things for their neighbours to enjoy every day. Events and experiences will take place across the day from noon until 11pm and are free to attend. Full line-up to be announced soon.