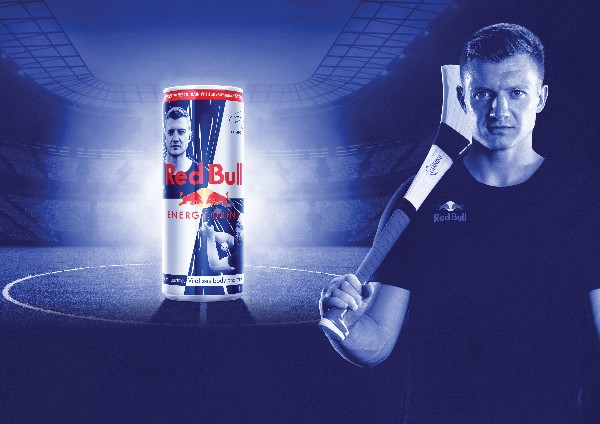 PROVE YOUR INTERACTIVE HURLING SKILLS IN NEW MOBILE GAME,
RED BULL STRIKE
Following Sunday's epic semi-final battle between Galway and Clare, Red Bull Athlete, Joe Canning was presented with his own Red Bull limited edition can. Available from this week, the limited-edition Red Bull can is available in stores nationwide. Joe Canning now joins a select group of international athletes such as Neymar Jr., Max Verstappen and Danny MacAskill, who all have had Red Bull cans designed for them.
The limited-edition Joe Canning can is the first of its kind in Ireland and to accompany the release, Canning has unveiled Red Bull Strike, a signature mobile game. Renowned for his skill, speed and power on the pitch, Canning has challenged the nation to compete in Red Bull Strike, a mobile phone game where the aim is to simulate the longest strike of a sliotar. The highest score will win a training session with Joe Canning and a VIP weekend for them and their friends and some additional Red Bull gear and equipment. All details including the mobile game can be found at RedBull.ie/Hurling.
Following Galway's win against Clare last Sunday, securing a place in the 2018 All Ireland Hurling Final, Joe Canning said
"I'm still blown away by the opportunity to feature on the new Red Bull can. It's not something you see every day and I'm extremely grateful for the support Red Bull have provided over the years for both myself and the Galway team. Still, I'm going to get an awful slagging for this one!"
Red Bull the official energy drink of Galway GAA, first partnered with Canning in 2009 at the beginning of his illustrious career with the Galway Senior Hurling team. In that time, Canning has racked up an impressive list of accomplishments including four All Ireland club medals with Portumna, winner of an All-Ireland medal with Galway and was also crowned 2017 hurling player of the year. Achievements aside, there is no guarantee he can beat the sports enthusiasts of Ireland and top the leaderboard of Red Bull Strike!
For more information on Red Bull Strike, visit RedBull.ie/Hurling