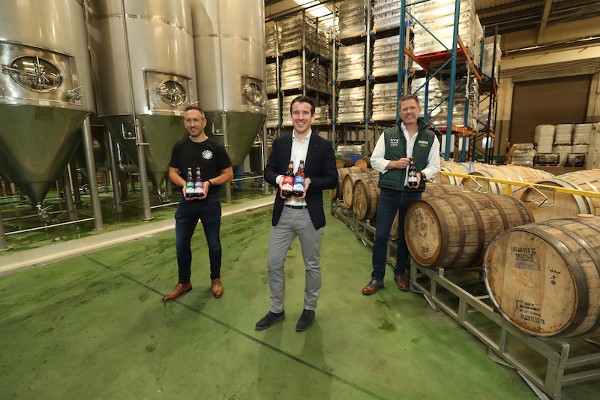 Lidl Ireland has today announced a multi-million-euro investment in nine long-standing Irish suppliers that comes amid much uncertainty in the drinks industry due to temporary closure of restaurants and bars in Ireland. The substantial investment totalling to more than €50 million, is the result of Lidl Ireland facilitating supply contracts with their counterparts in 27 countries, making their products available on the shelves of more than 10,000 Lidl stores in Europe and the USA.
Among these partners is Celbridge-based, Rye River Brewing Company, who has supplied Lidl since 2014 and has nearly tripled their product range of craft beers under their Crafty Brewing Co. brand in that time, in addition to creating 14 new local jobs off the back of the investment. The retailer has facilitated a landmark deal in 2020, which sees the small local brewery export more than 3.5 million bottles of its craft beer to 21 European countries this year.
Terra, who have supplied Lidl with luxury Irish cream liqueurs since 2009, has seen their workforce grow by more than 40% off the back of the retailer's investment which also saw the expansion of a high-speed automated production line in 2015. The line produces up to 70,000 bottles of specialty Irish cream liqueur per day to meet demand from 16 European countries and Lidl's stores in the USA.
West Cork Distillers has been supplying Lidl Ireland with premium, award-winning spirits since 2015 and supplies the retailer with their own brand of luxury Irish whiskeys and gins, including Wild Burrow Irish Gin and Dundalgan Irish Whiskey. The Skibbereen distillery has secured a contract that will see these bestselling spirits on the shelves of thousands of Lidl stores across the continent and has already proved to be a hit with customers, including being chosen to front national marketing campaigns for Lidl Germany.
Kevin Haverty, Buying Director, Lidl Ireland and Northern Ireland commented: "Developing and supporting our supplier network is at the core of our business, and we're extremely proud to be in a position to showcase the sublime quality Irish suppliers have to offer on a global stage. In these challenging times, it is our priority now more than ever to support our Irish suppliers and enable them to build their capacity and grow their workforce to supply the island of Ireland and beyond."
"It is an extremely challenging time for Irish food and drink businesses," said Tara McCarthy, CEO of Bord Bia, "The response of these companies demonstrates in practice the resilience, agility and determination of the sector. I am pleased to see Lidl Ireland's continued commitment and ambition to promoting the Irish food and drink industry across the globe, and therefore supporting the development of homegrown local suppliers the length and breadth of the country."
Peter Maguire, Sales Director, Rye River Brewing Company, said: "Our partnership with Lidl Ireland began in 2014, and as our business has grown so too has our relationship with both Lidl Ireland and Lidl International. Crafty Brewing Co. is an integral brand within our business and its strong growth in international markets in recent years has proved very important, none more so than throughout this pandemic. Our Lidl export business has acted as a stabilising factor amid many other business uncertainties."