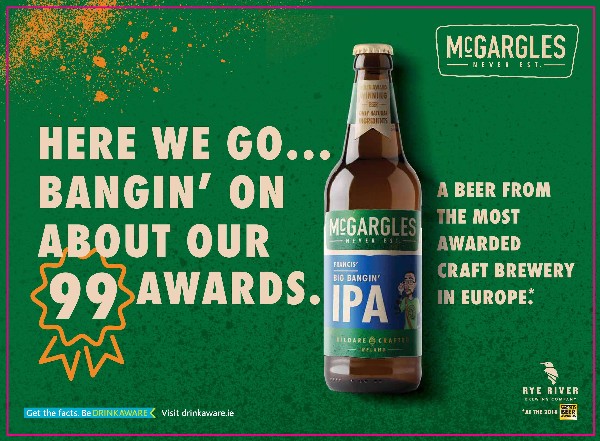 Ireland's fastest growing and most decorated independent Craft Beer Brewery, Rye River Brewing Company, which produces beers under the flagship brand McGargles, as well as supplying internationally regarded and award-winning private and exclusive craft beers, The Crafty Brewing Company, Solas and Grafters, has become what they believe to be the first Independent Irish craft beer brewery to launch an above the line campaign.
Under their flagship brand McGargles, Rye River Brewing has launched an out of home advertising campaign across Dublin in recognition of its 99 award wins since 2013. The eye catching billboards will be popping up in strategic lcoations this summer leading with tag line "Here we go banging in on about our 99 awards" featuring the Francis's Big Bangin' IPA, which is just one of the McGargles range. The full McGargles range includes a variety of nine beers and has proved to be very popular with Irish consumers, becoming the fastest growing domestic craft beer brand in Ireland.
2018 proved to be a year to remember for Rye River Brewing Company, which received international critical acclaim for its range of beers, winning an unprecedented 19 World Beer Awards (WBAs), officially making Rye River Brewing "Europe's most decorated brewery". The World Beer Awards is a prestigious competition that is a celebration of beers from around the world, with over 2,000 beers from 30 countries entering the 2018 awards. This awards haul brought Rye River's awards total to 99 since the launch of the brewery in 2013.
In the past two years Rye River Brewing has won five Best in Class Awards at the WBAs – meaning that Rye River Brewing now produces five of the best beers in the world within their specific profile range, a feat achieved by no other independent Irish Craft beer company and differentiating Rye River Brewing as one of the leading and most influential craft beer breweries in Ireland.
The success has continued in to 2019 with the company's Founder and Managing Director, Tom Cronin, being shortlisted as one of the finalists In the Emerging category of the 2019 EY Entrepreneur of The Year™ Ireland programme. The finalists will compete across three categories - Emerging, Industry and International, with one winner being named The EY Entrepreneur of The Year™ 2019 later this year.