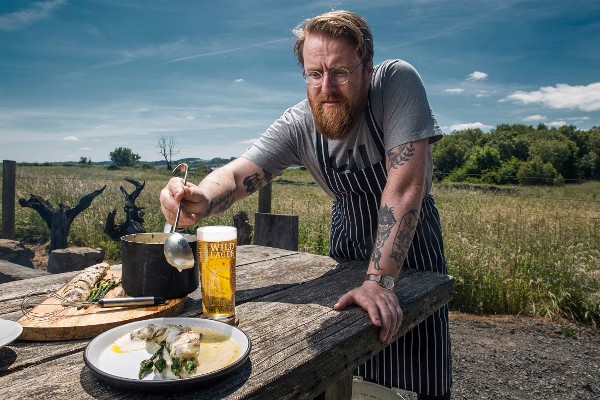 Wild Lagers by Heineken® collaboration with JP McMahon Comes to Herbert Park from 16th -19th August
HEINEKEN Ireland is bringing its limited-edition Wild Lager collection, Wild Lager Himalayas and Wild Lager Patagonia to The Big Grill Festival in Herbert Park from the 16th - 19th August. Guests at the event will also get to sample The Wild Lager Menu created by master chef JP McMahon of Aniar Restaurant in Galway, consisting of four dishes created using wild and foraged Irish ingredients, to accompany each of the lagers.
Wild Lager Himalayas (H32), a lager with fresh hints of citrus and a full malt character, is the second limited edition Wild Lager released in Ireland, following the success of Wild Lager Patagonia (H41), with its fuller flavour and spicy notes, which was released in Dublin last year, and is now available in selected bars in Galway, Cork and Limerick.
The menu, created using wild and foraged Irish produce and ingredients, can be enjoyed at The Big Grill in Dublin this month. To pair with Wild Lager Patagonia, JP will serve a rib-eye steak with wild garlic pesto and roasted hazelnuts. With Wild Lager Himalayas, JP will prepare mouth-watering Monkfish with asparagus and woodruff.
You can taste these amazing dishes at the Wild Lager bar within The Big Grill on the 16th, 17th, 18th & 19th of August. JP will be serving up these delicious dishes all day Thursday, the 16th of August.
Speaking on the partnership, JP McMahon commented: "Wild Lager by Heineken® is a totally new beer style with unique flavours that pair perfectly with the wild flavours of real Irish produce. Creating The Wild Lager Menu was a journey of discovery, a culinary adventure of sorts; I can't wait to share these dishes and both Wild Lagers at The Big Grill Festival. The BBQ will be ready!"
For more information on The Big Grill and to purchase tickets, please visit www.biggrillfestival.com