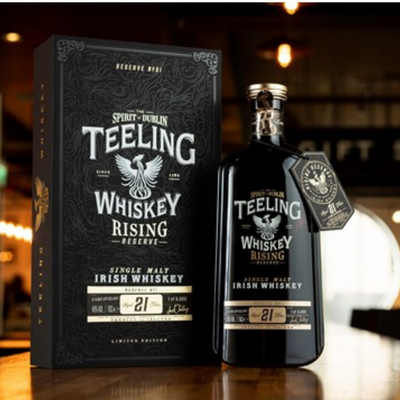 We are back with a new virtual tasting to kick start 2023. Join us Thursday, 23rd of February at 7pm (Irish Time) for "Dublin Rising", our latest Teeling Whiskey Virtual Tasting Event! This special tasting will give you the opportunity to taste your way through our range of Single Malt Whiskeys including our Renaissance 5, newly released Rising Reserve 21 Year old Single Malt, and two unreleased vintage single malts.
Hosting the event will be Master Distiller and Master Blender, Alex Chasko, Global Brand Ambassador Robert Caldwell, and Production Manager, Enda Winters. Tickets for this event are €50 (plus shipping). Packs include 4 x 30ml samples of Teeling Whiskeys. Packs will be delivered in advance of the event on February 23rd. No delivery to the UK, US, Canada, Brazil, Russia or South Africa and some other regions. T&Cs apply.
Our Dublin Rising Virtual Masterclass features our newly released Rising Reserve 21 Year Old Single Malt. This new series is crafted to celebrate the true global Renaissance of Teeling, Dublin, and Irish Whiskey as it continues to be the fastest growing spirit in the world, coupled with the vibrancy of the many new entrants to the category.
The Rising Reserve Series is a follow on from our highly sought after and award-winning Revival and Renaissance bottlings, which we originally released to celebrate the opening of our Distillery in Dublin and with that, the revival and renaissance of the tradition of Dublin Distilling. To order your Dublin Rising Single Malt tasting pack and get the chance to taste our new series of super premium Single Malt whiskeys, click the link below!