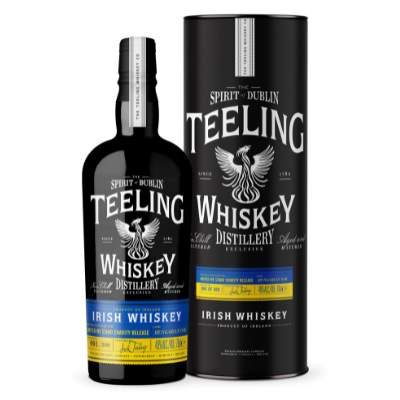 In light of the ongoing crisis in Ukraine, Teelings are releasing a "United We Stand" charity bottling of their Distillery Exclusive range. All proceeds, including tax and duties, will be going to charities who are supporting Ukrainian families and in particular children as they navigate their way through this incredibly difficult time.
The bottling is limited to only 300 bottles. Each bottle is numbered and consists of Teeling Whiskey that has been given extra maturation in Virgin Hungarian Oak and bottled at 46% with no chill filtration. This charity release is only available online through the Teeling Whiskey Distillery shop priced at €85.00 a bottle with all proceeds being donated to charities focused on supporting children directly impacted as a result of the conflict in Ukraine.
The Teeling Whiskey Distillery will also be open for tours on the 17th of March, after being closed for the last two years for the St. Patrick's Day celebrations. This will allow Teelings a further opportunity to raise funds for their chosen charities, as they will also be donating all tour proceeds taken on St. Patrick's Day itself.

Commenting on this special release, Jack Teeling, Founder and Managing Director of Teeling Whiskey said: "We have been watching the humanitarian disaster unfold due to the conflict in Ukraine and we want to do something to help with a special "United We Stand" Charity Bottling. We will be donating all proceeds, the full €85 per bottle, from this limited edition release of 300 bottles as well as all our Teeling Whiskey Distillery tour takings this St. Patrick's Day to charities supporting the welfare of those worst affected