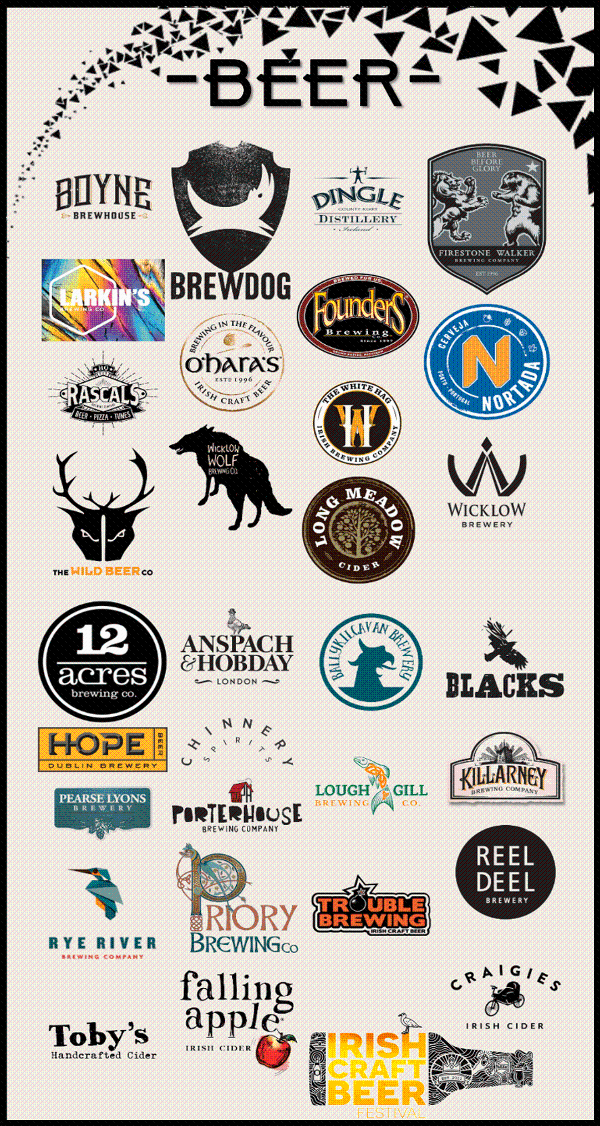 The Irish Craft Beer Festival is back – with a twist! Taking place in Dun Laoghaire Old Ferry Terminal (in the old Stenna terminal) the team is bringing back the nation's original and favourite craft beer festival!
Running on the 17th and 18th of May the festival will kick off the summer in style especially with an unmissable music line-up.
This year they have very much gone with a Manchester theme bringing in some top musicians from across the pond. Taking centre stage on Friday at 6pm is DJ Paul Gallagher brother of Noel and Liam and at 8pm they have the amazing Live Forever – The Ultimate Oasis Tribute Band. On Saturday warming up the festival is Bobby and the Blunts at 5.30pm followed by DJ MIC at 6.30pm and finally rocking the festival to a close will be Cronin. With this music they are sure to set the pier alight.
With an explosion in the Irish craft beer market in recent years, the Irish Craft Beer Festival has changed with the times and is rolling back to what Irish craft beer is all about. Featuring a more focussed number of brewers – this year's crew will be offering tipples you cannot buy in your local. There will be lots of festival specials, new beers being launched as well as seasonal twists on household favourites! From craft brewers, to cider makers and distillers, this year's participants are all unique and indigenous in their own way. From family run farms making cider to three best friends with a shared love for graffiti and good food now brewing beer – the list is full of colour, fun and most importantly – quality!
Along with the local heroes, a number of international breweries will be joining this year's line-up; craft beer rock stars and godfathers - Brewdog, London's finest Anspach & Hobday, the lion and bear from California - Firestone Walker, Michigan's favourite Founders, sunny Portugal's Nortada and a modern brewery from rural Somerset - The Wild Beer Co.
Dun Laoghaire Harbour is set to come alive over the two days. From sizzling Jane Russell sausages and 00's stone baked pizza to the local delights from Say Fish and Meat Mafia's bustling burrito tent – there will be a smell of summer in the air! This will be set against the back drop of two headline acts and some top DJ's from across the pond!
Participating Irish breweries include:
12 Acres Brewing Co (Laois), Ballykilcavan Brewery (Laois), Blacks Brewery and Distillery (Cork), Boyne Brewhouse (Louth), Hope Beer (Dublin), Killarney Brewing Co (Killarney), Larkins Brewing Co (Wicklow), Lough Gill Brewing Co (Sligo), O'Hara's (Carlow Brewing Company) (Carlow), Porterhouse Brewing Company (Dublin), Priory Brewing Co (Dublin), Rascals (Dublin), Reel Deel (Mayo), Rye River (Kildare), The White Hag (Sligo), Trouble Brewing (Kildare), Wicklow Wolf Brewing Co (Wicklow), Wicklow Brewery (Wicklow), Craigies Irish Cider (Wicklow), Falling Apple (Carlow), Long Meadow Cider (Armagh) and Toby's Cider (Armagh).
Beer isn't your thing? Taste some of the local spiritual delights – joining this year's line-up is Black's Distillery, Chinnery Spirits and Dingle Distillery.