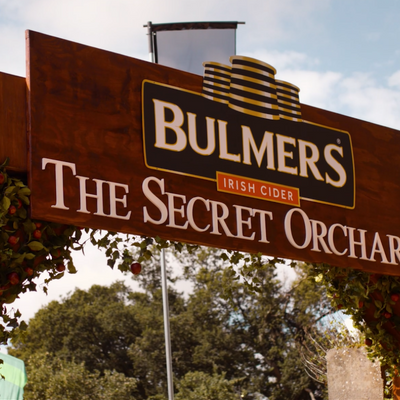 Fancy a weekend filled with exciting musical performances, artistic displays and tantalising cuisine amidst the leafy orchard of Bulmers Clonmel? Look no further. The Secret Orchard Live at Bulmers Clonmel returns following a successful launch in 2021 featuring headliner act, Gavin James, taking to the stage at the exclusive event on Saturday 10th September 2022.
Bulmers is offering fans of great food, delicious Bulmers and exciting performances the opportunity to secure a spot for themselves and four friends for this unforgettable event. Those interested need only head over to Bulmers.ie where they will find all competition details on how they can nab tickets to the most exclusive event of the summer.
The Secret Orchard Live at Bulmers Clonmel will see performances from alt-electro pop project, 1000 Beasts, an explosive set from one of Ireland's best-known DJs, Marcus O'Laoire and a headlining gig from renowned musician, Gavin James. Having had over 1.7 billion global streams as well as playing alongside fellow music heavyweights like Sam Smith, Ed Sheeran and Niall Horan, Gavin James is one of Ireland's modern musical successes. His third studio album, The Sweetest Part, was released last month to critical acclaim and Gavin will bring his memorable show to the Bulmers Orchard for one night only.
As well as unforgettable musical performances, guests can soak up a festival like no other in the famous Bulmers Orchard in Clonmel, a place rooted in history, where years, months and days pass to create the moment where time bears fruit. Attendees will enjoy time well spent with friends as they discover the magic and mystery of the Bulmers Orchard with a private tour of where the brand grows its 17 varieties of apples, spoken word performances from a seanchaí, an Irish storyteller, plus plenty of secret surprises. Expect delicious food throughout the event, paired with a crisp and refreshing pint of Bulmers. Once the festivities end, attendees will enjoy luxury glamping amongst the trees and stars with four-person bell tents available for the night.
Bulmers will be selecting winners across the country to bag four tickets for the exclusive gig as well as a luxury glamping experience in the Orchard. Interested festival goers need only head over to Bulmers.ie to be in with a chance to attend The Secret Orchard Live at Bulmers Clonmel. Entries close on 4th September ahead of the event on Saturday 10th September 2022.
Made from 17 varieties of apple, all grown and produced in Ireland, Bulmers has been crafting cider in Clonmel, Co Tipperary since 1935 and is 100% Irish. From blossom to bar at every step of the journey, craft and care is poured into every glass of gold. Apples are pressed and matured, using a recipe that's over 80 years old to deliver the crisp and refreshing taste of Bulmers we all know.
For more information, visit www.bulmers.ie or Bulmers Ireland on Facebook and Instagram.