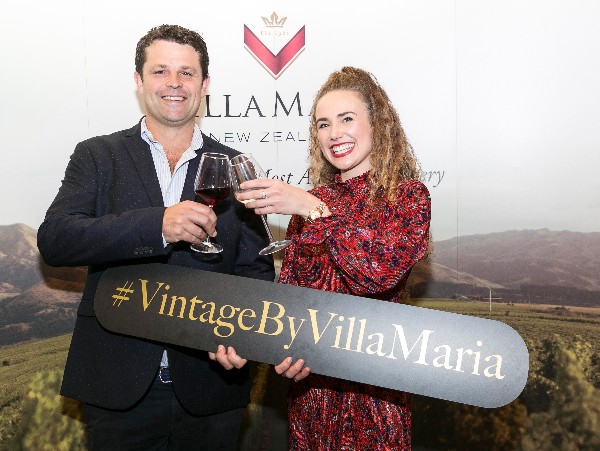 World-renowned New Zealand winery, Villa Maria, has teamed up with American filmmaker Colin West to create a feature length documentary that tells a story of winemaking that has never been told before.It will be aired for general release on Virgin Media 3 on the 31st of March and then be featured on the Virgin Media Player until the end of April.
"For the first time ever in New Zealand, a winery is capturing the vintage process, peeking behind the curtain of the all-consuming harvest period known as vintage. You'll see the passion and hard work that goes into every bottle," says Villa Maria Chief Winemaker, Nick Picone.

Vintage follows the experienced team of Nick Picone (Chief Winemaker), Stuart Dudley (Marlborough Viticulturist), Ollie Powrie (Chief Viticulturist), as well as Jessica Marston (Viticulture Cadet) who was undertaking her first vintage. Told through their own unique lenses, Vintage reveals how the team cope with unforeseen challenges, vastly varying climates, frost-filled early mornings and 24-hour-days.
Director and producer Colin West said about the film, " Vintage" is a feature length documentary that tells a uniquely Kiwi story capturing the incredible highs and heart-breaking lows of making world class wine in New Zealand." With a film crew following the team for 40 days at the busiest time of year, the director did not know what to expect. "We hoped that everything would go well but we didn't really know how vintage was going to unfold. It's so different from one year to the next," said West. Fortunately, 2019 was a stellar vintage with extremely high-quality grapes which resulted in outstanding wines which
will be enjoyed around the world.

Described as "a tremendous watch" by British wine writer Oz Clarke OBE, Vintage by Villa Maria will be available on Virgin Player during its global release . It will also be available in 12 markets overseas including New Zealand, London, New York , Sydney, Melbourne, Brisbane, Berlin, Amsterdam, Sofia, Moscow and Stockholm.

About Villa Maria
Villa Maria is an award winning New Zealand winery, providing some of the world's best selling and most loved New Zealand wine. A family company, mastering the sommelier craft, for the last 60 years, from their vineyard in Auckland. https://www.villamaria.co.nz